BeWILDerwood
Suitable for 1 year to 12 years

Closed right now, see opening hours
Visit the Twiggles
BeWILDerwood is a WILD and imaginative adventure park with magical treehouses and a hint of intriguing characters, bringing a curious difference to the Norfolk Broads. The setting for the book, 'A Boggle at BeWILDerwood' by local children's author Tom Blofeld, BeWILDerwood is a wonderful, mystical land of brave, adventurous creatures who you may never see anywhere else in our world.
Beautifully designed in keeping with its natural surroundings, BeWILDerwood Norfolk is truly an enchanted place. Unlike other attractions, there are no noisy rides, no electronics and no junk food!
The 20-acre adventure park is filled with zip lines, slides, mazes and lots of climbing through magical tree houses, as well as an array of special events throughout the year. Parents and grandparents are encouraged to play alongside their children, and whilst the Telegraph rates it as one of the top destinations to visit with under 16 years old in the UK, ALL of the family can run WILD in the beautiful canopied forest.
Brave the Broken Bridge, solve the giant Sky Maze, whoosh down the Slippery Slopes and whizz through the trees on the Wobbly Wires!
The Twiggles have added even more adventure to the woods, 2019 saw the opening of the Towering Treetop Tangles! Can you scramble through the tangles up to the tree canopy? This is one for the bravest of Boggles! Certain to keep adventurous ones amused for ages, the Towering Treetop Tangles will put your bravery to the test and ensure everyone is ready for a nap when they head home after a family day out at BeWILDerwood.
There are also loads of splendid events during the year. Find the full event listing on their wiggly website www.BeWILDerwood.co.uk
Find us: Horning Road, Hoveton, Norfolk, NR12 8JW
Open between February & October – Please check website for full opening times: https://www.bewilderwood.co.uk/plan-your-day-out/opening-times-and-prices/
SEE OPENING DATES HERE: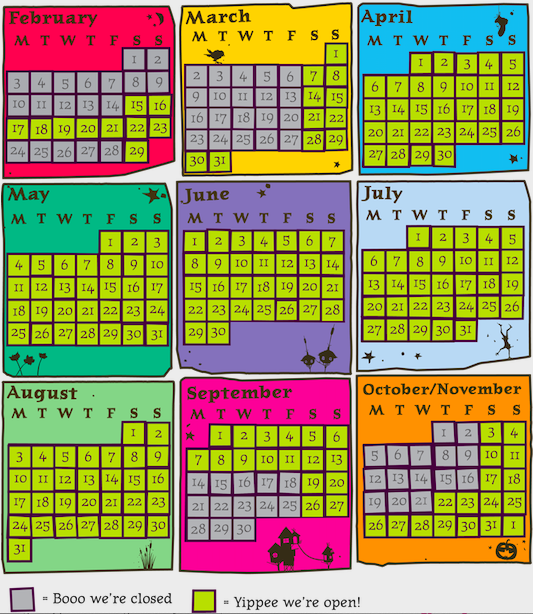 The Twiggles have a well earned rest from November to February!
Activity Type
Parks, walks and outdoor fun
Outdoor activities
Suitable for Additional Needs
Directions
Address: Horning Road, Hoveton, United Kingdom, NR12 8JW
Opening Hours
Sunday

Closed

Monday

Closed

Tuesday

Closed

Wednesday

Closed

Thursday

Closed

Friday

Closed

Saturday

Closed
Price
On the Gate
Adult

£18.5

Child

£16.5

Senior

£10.5
Online
Adult

£17.5

Child

£15.5

Senior

£9.5
Admission Prices are based on height as there's a few bits and bobs in the park that require longer arms and legs
Pssst!…If you book your tickets in advance online, you receive a discount on each ticket you buy.
COVID-19 Safety Measures
Hand washing facilities available
Staff dressed in PPE
Hand gel available
Limited tickets and restricted public admission to facilities
Social distancing measures in place
Hand gel available for every activity. One family per boat ride and cleaning in between (this did make the queue take a very long time). A really great day out!
Facilities
Double pram friendly
Suitable for twins/multiples
Pram/Wheelchair accessible
Has a childrens menu
Baby changing available
Reviews
There are 12 reviews for "BeWILDerwood"
Recommended by Sarah Flain with children ages 7 and 4 on Tue Jul 28 2020
We had such a great time at BeWILDerwood today! We arrived at opening time and although the queue was long it was very quick to get in, lots of staff directing people through. We didn't queue for the boat as the kids were too excited to go in... the walk in was still great and lots to see. I was so impressed with how well kept it all is, hand gel EVERYWHERE! Lots of cute signs about keeping your distance etc, no obvious limitations at activities and plenty of staff around the place. My 4 year old literally beamed the whole way round, so many things to do that stretched him but i felt comfortable that everything was very safe and well contained. They loved the slides and zip wires and basically spent 6 hours running around. We actually got to sit and have a coffee while they ran around the sky maze, that is a rarity when out and about! Well worth the cost to get in and coffees etc were well priced. We didnt eat there as we took a picnic but food seemed good and ok prices. An amazing day out, we highly recommend!
Recommended by Lucy with children ages 2 and 5 on Thu Jul 23 2020
We had such a great day out here all of the attractions were really safe so there was no worrying about our wild 2 year old getting into scrapes! The zip wires were awesome and we loved that there were little ones for the little kids and bigger ones for the grown ups too. The kids loved the slides and swings. We missed the story telling sessions as we were having too much fun with everything else but they looked like they were good from what we could see. The park wasn't too busy so we were able to get on everything easily- except for the boat rides- due to the covid measures it took over an hour to get onto a boat which was a very short ride. We totally understand it couldn't be helped but if we went again we wouldn't queue for the boats. The kids loved building a den and there was plenty of space for everyone to have a go. Overall a really fun day out where we were able to let the kids run free!
Recommended by Nimmy with children ages 4 and 1 and 1 on Mon Mar 09 2020
I thought BeWILDerwood was a really lovely place to take children and (grown ups) of all ages. The tree top walks and climbing frames are all big and safe enough that older kids could be left to have fun without worrying about them, and the construction of the climbing frames also meant that even the smallest feet could manage, with supervision. There is so much to do there so no worry about getting bored and running out of things to do. The staff are great, we caught the boat across scaaaaary swamp and the guy gave a lovely intro to the characters so even though we didn't know the stories it didn't matter. It was magical for Ed. He genuinely believed in the Twiggles and Boggles living in their gorgeous houses that are dotted around. The circus act was lovely. All very modest, nothing too flashy, just very down to earth, friendly and approachable performers. Ed built up a great rapport with one in the circus tent doing plate spinning, and when the guy later came on stage Ed was really pleased to see him and in total awe of him! Still can't believe how much there was to do there. We didn't get to do den building because we ran out of time, and it would have been nice to go round again and do some of the slides and climbing frames again but we wanted to make sure we saw everything, and with the girls being so slow we did take our time getting from one place to the next, but when they're older and can run around properly it will be a great day for them too.
Recommended by Suzanne P with children age 4 on Thu Aug 31 2017
Fantastic day here, lots of different swings, zip wires, slides etc. Also boat ride, face painting, craft area, interactive show. Really well laid out, slightly different play areas to the norm. Kids and adults loved it! Prices for kids are based on height.
Recommended by Victoria Palmer with children age 2 on Mon Aug 14 2017
Loved this!! Went on holiday last week on the recommendation from Wikiplacesforkids. Such a fabulous place. Such fun for our 2 year olds. Plenty to do. Free face painting (donation suggested). Fun for adults too. Will def be back. Recommend taking a picnic. Thx Wiki for this great find!
Recommended by Melanie banks with children ages 3 and 1 on Mon Aug 14 2017
Super day out for the kids and parents. Loads to see and do and good facilities. Suited more to my 3 year old, but the 1 year old was still kept entertained.
Recommended by Tina with children age 3 on Mon Aug 14 2017
I'm so glad we came across this gem of a place on Wiki Places! We had a fantastic time, there's so much to do. We especially enjoyed the boat ride and big slides. It was great fun! I would definitely recommend it to anyone in the Norfolk area !
Recommended by Cos with children age 2.5 on Mon Aug 14 2017
What an amazing place, it is truly jaw droppingly awesome. Thank you Wiki for this terrific recommendation, we had a fantastic day out. Any description is not really going to do it justice but it is a bit like Robin Hood meets the Ewoks (from Star Wars) tree top and forest adventure playground. Set around a story with a magical theme, search for the fairy houses in amongst the trees. There are rope bridges, tree top run ways, zip wires, dens, mazes, play grounds, story telling amphitheatre, face painting, magic boat ride and much much more. Be prepared for a jam packed full day out. Check the weather to make sure you come dressed appropriately - it is an open air forest - and like the other recommendations, a picnic is a great idea. However we did eat from the cafe, it was reasonably priced and yummy. Plenty of free parking out side the main entrance and friendly helpful staff all over the site. Not one to miss!
Recommended by Susie, Founder of Wiki Places For Kids with children ages 4 and 2 on Mon Aug 14 2017
BeWILDerwood The Curious Treehouse Adventure is amazing! So much to do from zip wires to high climbs and rope bridge crossings, massive slides, mazes, tunnels, free face painting, interactive story telling, swings of all varieties, a boat ride and so many climbing frames you'll be tired out just watching (if you're not all joining in, which we were)!! It's all set around a book theme about the characters who live in the woods and it's totally magical and enchanting. The kids were beside themselves, we could have been there all weekend! Lots of cafes and refreshment areas around also. Toilet areas in lots of places and a little basic so take a fold up changing mat in your bag just in case you need it. I hugely recommend Bewilderwood for kids of all ages but especially 3 plus! It's a must!!
Recommended by Lindsay with children ages 3 and 1 on Mon Aug 07 2017
Fantastic day out for the kids. Reasonably priced, hardly any queues (Saturday visit), good food, loads to do, plenty of toilets. Slides, climbing, boat ride, mazes, zip wires, face painting, hat making, story time, tunnels and more. Staff were great. Picnic areas a plenty so recommend you pack one up.
Recommended by Chloe with children ages 11 and 7 on Wed Mar 23 2016
It is a magical day out with play areas for all age ranges. The atmosphere of the place was wonderful and my son (who is not an avid reader) asked to buy one of the stories about the adventures of Swampy and his friends and never a tires of reading it.
Recommended by Erin with children ages 2 and 1 on Sat Mar 19 2016
Great day out! If you love being outdoors then this is the place, lots going on and very magical for children. Food options inside are pricey, but as a treat ok *take a picnic. Make sure you dress appropriate for weather and for smaller ones take spare clothes as it can be muddy in certain places. Busy in holidays but do spacious it doesn't feel it, only time you noticed us queuing for boat to get in and out (you can walk but it is lovely on a boat and it gets you in the magical mood). My son was 1 when we visited, he could walk and do some things, but great for older ones, we also had 5 and 8 year old with us. Seasonal opening hours (only open on weekends in the winter if at all) so check it's open if not in the summer months