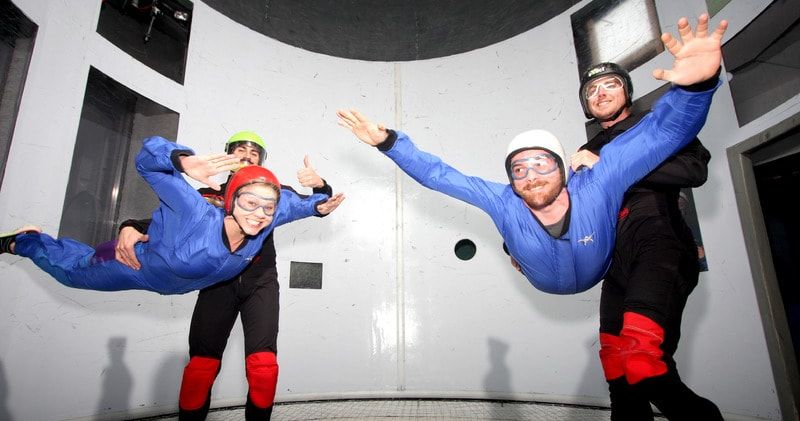 Twinwoods Adventure - Indoor Skydiving Bedford
Twinwoods Adventure - Indoor Skydiving Bedford
Open today from 0900 until 2100
Awesome for a full day out or just an activity session- you can swim, fly, jump, drive, surf, climb or visit the soft play so something for everyone. Some activities are quite expensive but I love it it- the driving and surfing are my favourite. Read my blog at What Luke Did Next
Recommended by Luke (age 8) with children ages 8 and and 5 and 19 months - Mon Jan 02 2017
Activity Type
Sports
Swimming and splash parks
Restaurants and food
Outdoor activities
Indoor activities
Softplay
Details
Address:

Twinwoods Business Park Thurleigh Road Milton Ernest Bedford England United Kingdom MK44 1FD

Contact:

01234 816350

Adult price:

£12

Child price:

£10

Infant price:

£

Other price:

Prices are for climbing- other activities vary

Website:
Facilities
Available for kids parties
Good food for parents
Pram/Wheelchair accessible
Has a childrens menu
Baby changing available
Opening Hours
Sunday

0900 - 2100

Monday

0900 - 2100

Tuesday

0900 - 2100

Wednesday

0900 - 2100

Thursday

0900 - 2100

Friday

0900 - 2100

Saturday

0900 - 2100
Reviews
There are 1 reviews for "Twinwoods Adventure - Indoor Skydiving Bedford"
Recommended by Stacie Carter with children ages 2 and 6 and 9 on Sun May 26 2019
The soft play area here is fab. Probably one of the nicest I've been to as far as soft play for children goes. It's always clean & the staff are always really friendly. We have had a party here before & it's been great. Well worth the money & the children loved it. The fact that it's got two decent sized play areas for different ages is perfect & it's not too big where you're unable to watch your children. The cafe is reasonably priced & offers a good choice of food & snacks.