Alton Towers in the time of COVID-19
on Sun Jul 05 2020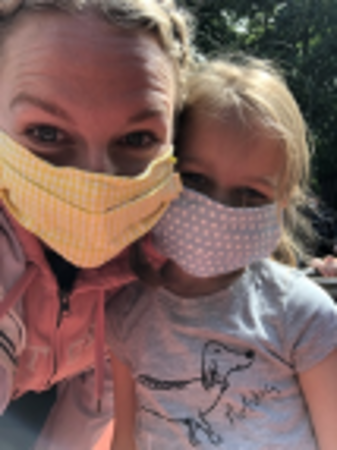 By Charlotte Speak - Founder of Power of the Parent
We're Merlin Annual Pass holders, so we're mega grateful to have trips to their attractions as (usually) commonplace throughout the year. We've been very careful to follow the lockdown rules and we know we've been in a fortunate position to be able to stay home in a safe environment, but we were all feeling ready for a day out! I was definitely nervous, particularly having not taken the kids anywhere but a walk in the local woods and a couple of garden visits of grandparents – but I had faith in Alton Towers, and they didn't fail me! Here's what we found…
Arrival
· The monorail is out of action, they're parking cars at the top end of the car park so there's less of a distance to get to the front gates.
· You have to have pre-booked, even as annual passholders. Numbers are definitely capped, although I'm not sure to what exactly.
· You'll find security and temperature checks just before you go through the entry turnstiles.
· Capacity of that entrance area is also capped, so you can't bank on easily nipping to the loo when you arrive. We were there on day 2, and I think the staff did a cracking job of co-ordinating it all – if you do need to get through to the toilets, just go towards the gate and the member of staff there was holding people to one side to let them through.
· They'll give you a lane number – stick to it. If you stray into another one, they'll move you back!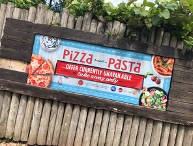 General Park logistics
· Social distancing measures are everywhere. There has clearly been lots of thought go into how queues need to work and the accompanying markings.
· Ride exits are one way, so if you've previously used that as an accessible entrance there are alternatives that are clearly sign posted.
· Despite fewer guests being allowed in, there are still loads of staff. They're manning entrances, exits, walkways etc.
· Most of the park has a one-way system in place. You'll do more steps than usual, but it was clearly sign posted and again lots of staff around to help.
· There is possibly a risk of TOO much signage – so for example, in the toilets, every other sink is meant to be out of action. However, they've just put posters above the sink they don't want you to use, which kind of just blend in with the rest of the décor.
· There are places to get food – but it's all take away. Outdoor covered seating is available, but we took a picnic blanket to sit on the big lawn. If you're partial to the Pizza buffet, it's changed to a meal deal set up rather than the all-you-can-eat sitch.
· Loading and unloading of rides has become an art form for the staff. Particularly the big ones, they're loading a row at a time, and then when it comes to exiting, it's one row to clear the station, then the next can go etc.
· There are regular cleans of the rides – hard to tell the regularity but it was definitely happening. There was also anti-bac EVERYWHERE, and you'll need to put it on before and after most of the rides.
· Face masks are required on some of the rides if you're over 6 and I'd say a good chunk of people were wearing them just to walk round, although that isn't compulsory. They have them to buy at the park, but I'm not sure how much they were (my Mum has been making loads so we were covered!)
· Capacity on rides is limited, so you're likely to wait a bit longer – but the reduced numbers allowed into the park seems to balance it out in the main.
· The staff were excellent throughout the park.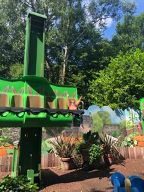 CBeebies Land
· Pretty much everything is up and running. The only exceptions when we were there were Justin's house and the Charlie and Lola play area because they're indoor – this is the rule of thumb across the entire park (Duel and Hex for example are shut, but you can get an up to date list from the Alton Towers website).
· The In the Night Garden boat ride is leaving longer between boats setting off, so if you're a fan of that I'd head there first – there weren't many queues at all in CBeebies but that one did get to about 20 minutes as the day went on
· The old Numtums ride has had a re-brand, and they've marked quite a few of the seats as out of use – again, it's not a mega obvious sign because it's on the cars (and ALL the cars have some sort of signage on them now). However, the attendant was great at making sure people were spread out.
I think they are the main bits – I came away feeling great for having a day out, which I really didn't expect to. I felt nervous, wondered if we were going too soon and worried about keeping distance at somewhere like a theme park. I couldn't have been more wrong – between the fresh air, the park set up and the reduced numbers it really was brilliant.
Well done Alton Towers!