Sunday Roast: Classic Lemon and Rosemary Traybake Chicken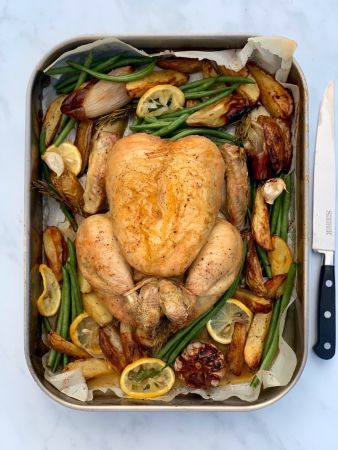 Lemon & Rosemary Roast Chicken Traybake, with potatoes & shallots
I know so many of you have already tried this super easy and totally delicious Traybake. It really is the answer if you want a lovely family meal without any of the faff! The juice at the bottom of the pan will infuse the potatoes beautifully, with enough to spoon over each plate as a delicious and flavoursome gravy.
INGREDIENTS
1 medium whole chicken
400g Potatoes - boiled for 3 minutes, the sliced into 4 lengthways
4-5 echalion shallots - peeled
6 cloves garlic - whole
1 lemon - cut in half and one half sliced
3 sprigs of rosemary
200g green beans
Foil ⠀
METHOD
Preheat the oven to 200 degrees.
⠀⠀⠀⠀⠀⠀⠀⠀⠀
Place one half of lemon and 1 clove roughly sliced garlic into the cavity of the chicken. Add the potatoes, garlic, shallots and chicken to a large roasting pan. Drizzle with oil, season and cover loosely with foil. Cook in the oven for 45 minutes. Remove the foil and cook for another 30 minutes. Now stir in the lemon slices, rosemary and green beans, turning the shallots and potatoes if need be. Cook for another 15-20 minutes. Remove from the oven and rest for 15 minutes. Serve making sure to use the delicious juice at the bottom of the pan as gravy.⠀⠀⠀